Paris show blends happiness and melancholia of young Pablo Picasso
Pablo Picasso, La Mort de Casagemas, 1901. Huile sur toile, 27 x 35 cm. Paris, Mus閑 national Picasso-Paris, inv. MP3 Photo ?RMN-Grand Palais (Mus閑 national Picasso-Paris) / Mathieu Rabeau ?Succession Picasso 2018.

by Jean-Louis De La Vaissiere
PARIS
(AFP)
.-
More than 300 works from two key periods in Pablo Picasso's early years go on display in Paris on Tuesday, the first time they have been brought together in the city where the Spanish master took his first steps toward revolutionary new territories of modern art. "Picasso: Blue and Rose" delves into the formative days from 1900 to 1906 when the young artist was living the Bohemian life in a Montmartre studio, at times burning his works to ward off the cold. "The strongest walls would open before me," he would proudly write while absorbing the influence of Manet, Degas, Toulouse-Lautrec and Van Gogh. The exhibition at the Musee d'Orsay was conceived with the Picasso and Orangerie museums in Paris as well as the Beyeler Foundation in Basel, Switzerland, which will also show the works early next year. Curators managed to secure exceptional loans of works from the Picasso Museum in Barcelona and institutions in the US, Switzerland and Russia as well as from private collections rarely open ...
More
The Best Photos of the Day
Christie's to auction 3,000-year-old Assyrian relief from the Palace of Ashurnasirpal II
Hauser & Wirth to open a gallery space in St. Moritz, Switzerland
The Met opens the first North American retrospective devoted to Eugène Delacroix


An Assyrian gypsum relief of a Winged Genius. Reign of Ashurnasirpal II, circa 883-859 BC 7 ft 4 in x 6 ft 5 in (223.5 x 195.5 cm). Estimate on request. ?Christie's Images Limited 2018.



NEW YORK, NY.- Christie's announced an important Assyrian relief will highlight the Antiquities sale on 31 October in New York as part of Classic Week (estimate on request). The finest example of Assyrian art to come to the market in decades, the work will be sold on behalf of the Virginia Theological Seminary to underwrite a scholarship fund. According to G. Max Bernheimer, International Department Head of Antiquities, "This Assyrian relief is without question the most exquisite to come to the market in more than a generation, in terms of the style, condition and subject. The last example, sold by Christie's London, was the Canford School relief which depicted two figures that were only preserved from the waist up, while here we have a complete figure, perfectly-preserved from head to toe. The Canford School relief set a world- ... More



Hauser & Wirth St. Moritz will occupy the Palace Galerie space in the centre of St. Moritz.



LONDON.- Iwan Wirth, President and co-Founder of Hauser & Wirth, announced today that the gallery will inaugurate a new space in St. Moritz, in the heart of Switzerland's Engadin Valley. Opening in December 2018 with an exhibition of works by renowned late French-American artist Louise Bourgeois, Hauser & Wirth St. Moritz is a natural extension of the gallery's activities in its native Switzerland. It will be Hauser & Wirth's third Swiss location and its ninth outpost internationally. Hauser & Wirth was first established in Zurich in 1992 and, along with several of the city's museums, became a founding tenant in 1996 of the converted historic L鰓enbr鋟 brewery building in that city's industrial district. In 2015, Hauser & Wirth launched its second location in Switzerland, a private gallery in Le Vieux Chalet, a traditional ski chalet in Gstaad. Hauser & Wirth St. Moritz will occupy the Palace Galerie space in the ... More



Eug鑞e Delacroix (French, 1798-1863). Self-Portrait with Green Vest, ca. 1837. Oil on canvas, 25 9/16 x 21 7/16 in. (65 x 54.5 cm). Mus閑 du Louvre, Paris. ?RMN-Grand Palais (Mus閑 du Louvre) / Michel Urtado.



NEW YORK, NY.- French painter Eug鑞e Delacroix (1798–1863) was one of the greatest creative figures of the 19th century. Through his choice of daring subjects and compositions, a vibrant palette, and bold brushwork, he set into motion a cascade of innovations that changed the course of art. As Van Gogh wrote in 1885: "What I find so fine about Delacroix is precisely that he reveals the liveliness of things, and the expression and the movement, that he is utterly beyond the paint." Although Delacroix is celebrated as the embodiment of the Romantic era, much remains to be understood about his life and prolific career. On view at The Metropolitan Museum of Art, Delacroix is the first comprehensive retrospective in North America devoted to the artist. Visitors will discover a protean genius who continues to set the bar for ... More
The National Gallery of Ireland opens a unique exhibition of animal drawings by Dutch artist Frans Post
Contemporary talents star alongside titans in Sotheby's New York Auctions of Photographs
Rare 16th century painting of Spanish Armada at risk of export


Frans Post (1612-1680), Brazilian Landscape, 1660s. Oil on wood panel, 48.3 x 62.2 cm. Photo ?National Gallery of Ireland NGI. 2008.12.



DUBLIN.- For the first time in Ireland, from 8 September – 9 December 2018, the National Gallery of Ireland presents a unique show of animal drawings by Dutch artist Frans Post (1612-1680). Admission is free. Post spent 7 years in Brazil, from 1637 to 1644, where he documented the plants and animals of the Dutch colony for its Governor-general Johan Maurits (1604-1679). This fascinating collection of Post's unsigned drawings lay in a Haarlem archive for over 3 centuries before its rediscovery in 2010. Brazil inspired Post after his return to the Netherlands in 1644, where he produced and sold Brazilian-themed landscapes, which include many animals that correspond to the drawings on show here. Curious Creatures – Frans Post & Brazil includes 2 key paintings by Post. Specimens on loan from the Natural History Museum allow visitors to see animals from the ... More



Michael Dweck, Sonya, Poles (Montauk), mural-sized, flush-mounted, signed, titled, dated, and editioned 'AP-3' in ink on the reverse, framed, 2002, printed in 2010, 54 by 43 in. (137.2 by 109.2 cm.) Estimate $50/70,000. Courtesy Sotheby's.



NEW YORK, NY.- Sotheby's shared highlights from their fall auctions of important Photographs in New York. Offering over 200 exceptional works spanning the 19th through the 21st-centuries, their two sales on 3 October celebrate the expressive breadth of the medium, with works estimated from $1,000 to $500,000. This season's Photographs auction features masterpieces of 20th-century European Modernism by Aleksandr Rodchenko and L醩zl?Moholy-Nagy; iconic American images by Edward Weston, Robert Frank, and Walker Evans; a selection of celebrity portraiture and nude subjects by Herb Ritts; and pioneering color photography by Irving Penn, Joel Meyerowitz, Stephen Shore, and Saul Leiter. Our second annual Contemporary Photographs auction offers a wide ... More



Miniature shows Queen Elizabeth I watching the naval battle.



LONDON.- An exceptionally rare painting depicting the defeat of the Spanish Armada, a naval campaign widely regarded to have changed the course of European history, is at risk of being deported from the UK unless a buyer can be found to match the asking price of ?10,000. Minister for Arts, Heritage and Tourism Michael Ellis has placed a temporary export bar on the 'The Spanish Armada in the Year 1588', by an unknown artist, to provide an opportunity to keep it in the country. Depictions of the Armada, with the inclusion of its leading historical figures, are exceptionally rare. Experts believe the painting was produced in around 1600, within a generation of the event. It shows Queen Elizabeth I watching the naval engagement, accompanied by Robert Dudley, Earl of Leicester. This reflected her personal intervention during the military campaign, when she rallied her troops through a speech at Tilbury. In 1588 Philip II of Spain ... More
Gagosian Gallery opens an exhibition of new paintings by Harmony Korine
Matthew Marks Gallery opens the largest exhibition of Anne Truitt's paintings since the 1970s
Most downloaded photograph in the Library of Congress Archive comes to Reynolda House Museum of American Art


Harmony Korine, TBT, 2018. Oil stick, oil based paint marker, spray paint, house paint on VHS cassettes and covers, 45 x 37 1/2 in. Courtesy Gagosian Gallery.



NEW YORK, NY.- Gagosian is presenting BLOCKBUSTER, new paintings by Harmony Korine. Korine's paintings at once attract and confront viewers with their distinctive aesthetics of perversity, opposition, and grit. Often working with materials found at his local Salvation Army store in Nashville, Tennessee, Korine combines subconscious impulses with objects from everyday life, resulting in what he refers to as "mistakism." An interest in hypnotic repetition led him to produce his Checking Madness series of warped checkerboard-pattern paintings, while the sequential images in film inspired his Loop Paintings of distorted photographs collaged on canvas, and, in 2016, the swirling "fazor" paintings. BLOCKBUSTER includes a new series of works that use grids of VHS tapes and their boxes as surfaces for painting. These obsolete items, once the primary medium for distributing ... More



Anne Truitt, Messenger, 1986. Photo: Courtesy Matthew Marks Gallery.



NEW YORK, NY.- Matthew Marks is presenting Anne Truitt Paintings, the new exhibition in his gallery at 522 West 22nd Street. Featuring eleven works on canvas made between 1974 and 1993, this is the largest exhibition of Truitt's paintings since the 1970s. Known primarily for her totemic wood sculptures painted in subtle shades of color, Truitt also made innovative paintings for more than three decades. Rarely seen during her lifetime (only one of the works in this exhibition has been shown before), Truitt's paintings juxtapose fields of rich color applied in multiple layers using a masking technique Truitt first developed in the 1960s. One of the largest paintings in the exhibition, the nine-foot-wide Engadine I (1990), features two shades of purplish black divided along a sharp vertical border that bisects the composition into unequal yet optically balanced halves. Despite her pared-down formal vocabulary, ... More



Dorothea Lange, Migrant Mother, Nipomo, California, 1936, Library of Congress, Prints & Photographs Division, FSA/OWI Collection. LC-DIG-fsa-8b29516.



WINSTON-SALEM, NC.- Reynolda House Museum of American Art presents the work of legendary photographer Dorothea Lange from Sept. 14 through Dec. 30, 2018. The exhibition, "Dorothea Lange's America," presents Lange's haunting photographs of 1930s and 1940s America and features some of the most iconic images of the 20th century. Throughout the season, Reynolda will invite the public to explore Lange's art and the themes it evokes through a series of programs, complementary exhibitions at the museum and at Wake Forest University, and a collaboration with Second Harvest Food Bank of Northwest North Carolina. "Lange's documentary photographs appeared in local newspapers, reaching both the masses across middle America and the lawmakers in our nation's capital, becoming poignant catalysts for social change and, ultimately, highly valued works ... More
The silver teapot owned by Virginia's last Royal Governor returns to Colonial Williamsburg
Phillips celebrates modern and contemporary ceramics with 'Shape & Space: New Ceramic Presence'
Exhibition at NewArtCentre examines the ongoing relationship between sculpture and textiles


Teapot, 1771-1772; marked by Andrew Fogelberg, Swedish/English, working ca. 1767-deceased ca. 1815; sterling silver and wood; London, England; gift of Angus Sladen of Hampshire, England, a descendent of the fourth earl of Dunmore, 2018-128.



WILLIAMSBURG, VA.- A small, delicately engraved, silver teapot that belonged to the Scottish nobleman John Murray (ca. 1730-1809), fourth earl of Dunmore and Virginia's last royal governor, which descended through Lord Dunmore's family, is now part of the Colonial Williamsburg Foundation's collection. Engraved with the Murray family armorial crest beneath an earl's coronet, it was made in London in 1771-72 under the sponsorship of the Swedish-born silversmith Andrew Fogelberg. This gift is the first example of silver marked by Fogelberg to enter the collection. "This remarkable teapot owned by Virginia's last royal governor represents our nation's history in a unique way that enables us to authentically tell America's enduring story," said Mitchell B. Reiss, president and CEO of the Colonial Williamsburg Foundation. "Gifts such as this one permit us to better convey the human dimension of our ... More



Peter Voulkos, Untitled Vase, signed in iron oxide 'Voulkos/59.' on the underside, glazed stoneware, 50.8 cm (20 in.) Executed in 1959. Estimate: ?0,000 - 60,000 ?Voulkos Family Trust.



LONDON.- As part of Frieze Week Phillips will celebrate modern and contemporary ceramics with an innovative exhibition and sale – Shape & Space: New Ceramic Presence. This curated selection of works showcases a specific realm that has often been overlooked, by focusing on artists who use clay as one of the many languages to express their vision. Curated by internationally renowned writer, critic and curator Francesco Bonami, Shape & Space will include works by Hans Coper, Lucio Fontana, Roy Lichtenstein, Ron Nagle, George Ohr, Pablo Picasso, Lucie Rie, Peter Voulkos, and Ai Weiwei, among others. Producing a platform upon which ceramists are put in dialogue with post-war and contemporary artists, Shape & Space is born out of the desire to address the ever-increasing central place of clay and ceramic in contemporary art. Shape & Space will be on view at 30 Berkeley Square from 28 September to 5 October, when it will be sold at auction ahe ... More



Anton Alvarez, Thread Wrapping Architecture, 2014. Polyester thread, fabric, PVA glue, colour pigment, MDF, plywood, OSB, wood, plastic and metal, 7ft 6 ?x 7ft 6 ?x 7ft 6 ?ins 230 x 230 x 230 cm. Copyright: The Artist. Image Courtesy: New Art Centre, Roche Court Sculpture Park, Wiltshire.



SALISBURY.- The Most Real Thing brings together diverse artists and makers to examine the ongoing relationship between sculpture and textiles, including work made using a range of techniques and media, from three-dimensional objects, contemporary painting, costume and performance to fabric, craft and design. The title of the exhibition is taken from Anni Albers' 1938 essay Work with Material in which she claimed: "…we must come down to earth from the clouds where we live in vagueness and experience the most real thing there is: material." Albers (1899-1994), studied and taught at the Bauhaus. Having begun as a painter she developed a life-long fascination for abstraction and found a freedom of expression in the stability provided by the strict grid of the loom. She explored the technical limits of hand-weaving before pioneering innovative uses of woven fabric ... More
Quote
We artists are mythmakers, and we participate with everybody else in the social constructionof reality. Helen Mayer Harrison
More News
---
Frida Kahlo and Diego Rivera's Poetic Wedding Portrait , 1931
---
Flashback
On a day like today, Italian-American sculptor Mark di Suvero was born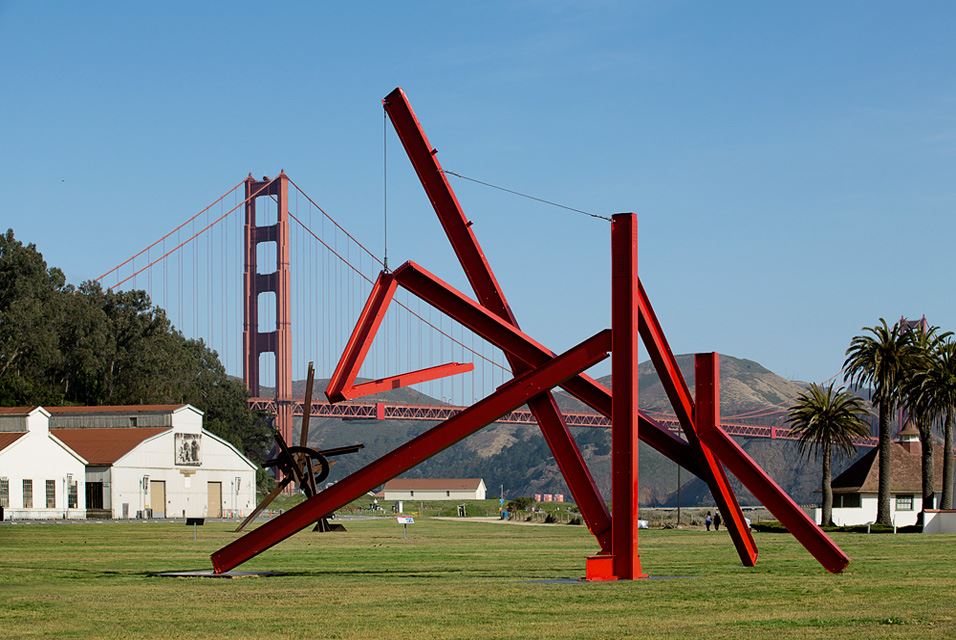 September 18, 1933. Marco Polo "Mark" di Suvero (born September 18, 1933) is an abstract expressionist sculptor and 2010 National Medal of Arts recipient. In this image: Mark di Suvero, Are Years What? (for Marianne Moore), 1967; painted steel; 40 x 40 x 30 feet; installation view of Mark di Suvero at Crissy Field, May 22, 2013朚ay 26, 2014; Hirshhorn Museum and Sculpture Garden, Smithsonian Institution, Washington, D.C., Joseph H. Hirshhorn Purchase Fund and Gift of the Institute of Scrap Recycling Industries, by exchange, 1999; ?Mark di Suvero; photo: Matthew Millman.
---

Museums, Exhibits, Artists, Milestones, Digital Art, Architecture, Photography,
Photographers, Special Photos, Special Reports, Featured Stories, Auctions, Art Fairs,
Anecdotes, Art Quiz, Education, Mythology, 3D Images, Last Week,
.
Tell a Friend
Dear User, please complete the form below in order to recommend the Artdaily newsletter to someone you know.
Please complete all fields marked *.
Sending Mail
Sending Successful